Our Culinary Directors work tirelessly to create delicious dining options utilizing fresh, locally sourced ingredients in order to provide residents with a nutritious, restaurant-quality experience at each meal.
Our meals are hearty and healthy, designed to reflect the very best in local cuisine. Our menu features dishes like grilled salmon, prime rib, coconut shrimp, duck and fresh salads. We also understand that sometimes, there's nothing quite like a home-cooked meal. That's why we utilize some of our residents' favorite recipes, making food exactly the way they enjoy it. Whether it's your mother's lasagna or your famous baby back ribs, our residents have a hand in selecting their meals and favorite foods for the weekly menus.
Dining with G.R.A.C.E.

Great food • Respect • Atmosphere • Chef-prepared • Every meal every day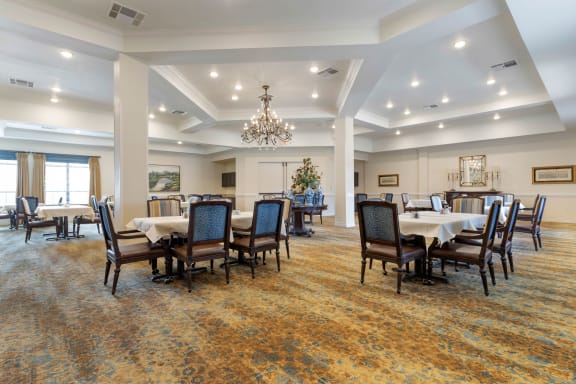 Our Memory Care meals are designed to maximize comfort by utilizing a program called Dining with G.R.A.C.E. To create a calming atmosphere, we play light music in the background, ensure that lighting is appropriate for the time of day and center the conversation around your loved one. To establish respectful service, we visually present beverage and food options. This gives them a better opportunity to make a choice without added confusion and frustration on their part.